This low-carbohydrate lasagna is still prepared similarly to the hearty favorite, using the same method but with zucchini strips instead of pasta. This filling dish will satisfy on its own or can be paired with a side salad, topped with Italian dressing.
Serves 5
Ingredients:
1 pound zucchini (about 3 medium)
3 tablespoons extra-virgin olive oil, divided
Salt, to taste
4 cloves garlic, minced
2 pounds ground beef
2 cups tomato or spaghetti sauce
12 ounces full-fat ricotta cheese
½ cup grated Parmesan cheese
1 large egg
3 cups mozzarella cheese, shredded
Steps:
Preheat the oven to 400 F. Line a large baking sheet with parchment paper.
Use a mandoline or knife to slice zucchini lengthwise into thin sheets, about one-quarter inch thick. Arrange zucchini on the baking sheet, in a single layer. Brush both sides with olive oil (use about 2 tablespoons), then sprinkle both sides lightly with sea salt. Roast for 15 to 20 minutes, until soft and mostly dry.
When done, remove the zucchini from the oven but leave it on at 400 F. Pat the zucchini with paper towels to soak up any extra water or oil.
Heat the remaining tablespoon of oil in a sauté pan on the stove over medium-high heat. Add the garlic and sauté for 30 to 60 seconds, until fragrant. Add the ground beef. Cook for about 10 minutes, until browned. Stir in the sauce and remove from heat. Taste and adjust salt and pepper if needed.
Combine the ricotta and Parmesan cheeses. Stir in the egg.
Arrange a layer of zucchini slices at the bottom of a 9x13-inch glass casserole dish. Top with half of the meat sauce. Dollop small pieces of the ricotta cheese mixture (using half of the total amount), then spread. Finally, top with half of the shredded mozzarella. Repeat the layers a second time, with shredded mozzarella last on top.
Bake for 15 minutes, until the cheese on top is melted and golden. Garnish with fresh basil, if desired.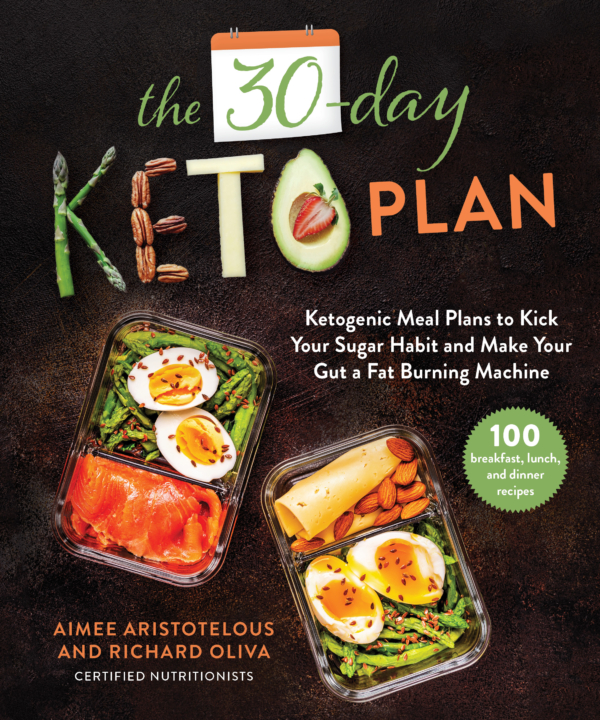 This recipe has been adapted from "The 30-Day Keto Plan" by Aimee Aristotelous. To buy this book, click here.